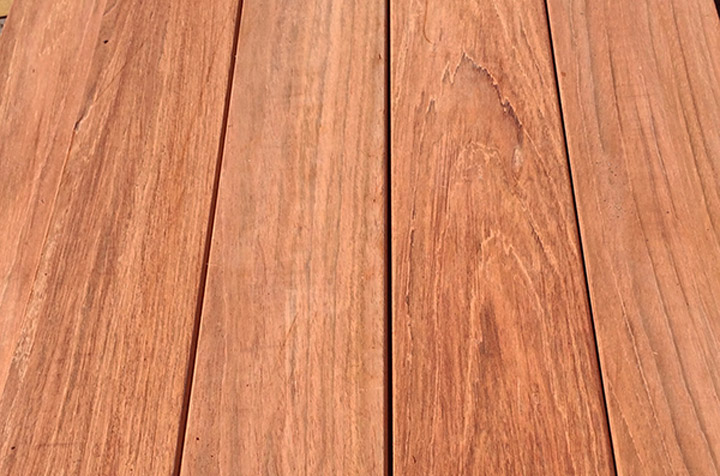 Known throughout North America as "Brazilian Cherry," Jatoba is another South American decking species that we and our customers absolutely love! Like Ipe, its deep reddish coloring offers excellent visual appeal. Although not quite as hard or stable as its even more well known Brazilian rival, Jatoba still boasts excellent stability and hardness, making it a fabulous choice for high-end decking or other exterior applications such as furniture or siding.
Jatoba's Ideal Density
Similar to other Brazilian species such as Ipe and Cumaru, Jatoba's density makes it extremely resistant to insects and to rot. For exterior species, that quality goes a long way toward influencing durability and lifespan. At the same time, its lesser density compared to those species allows it to more easily acclimate to a new climate as well as through seasonal moisture level shifts. For those reasons, some customers actually prefer Jatoba to those more expensive Brazilian species.
Jatoba's Unique Appearance
Like most tropical decking species, Jatoba has that great rich red coloring. Unlike most other species, freshly milled Jatoba will actually darken in the sun. Over time, it will also turn gray unless you treat it, but that initial deepening can go a long way toward helping blend colors. Another wonderful aspect of Jatoba's appearance is that it can be used for interior applications, too. While you'd want to use decking lumber outside, that outdoor living space can blend well with your indoor living space for a unified effect.
Jatoba that's dried and milled with interior use in mind is usually sold under the name "Brazilian Cherry." It's actually the same species; it's just ready for a different application. Jatoba has long been appreciated for its usefulness for interior flooring; its added use for exterior decking is relatively new.
Jatoba's Ideal Hardness
Like the area of density, Jatoba appears to be inferior to Ipe and Cumaru when it comes to hardness. However, Jatoba is still plenty hard enough to stand up to high-traffic areas without losing its luxurious luster; yet it can also be easily milled and installed without the difficulties that come with the extreme hardness of Ipe.
Since Jatoba can be purchased at 30% less cost than Ipe, the negligible differences in density and hardness seem a little less significant. As much as we love this species, we don't always love the difficulty that can come with sourcing it; interior Brazilian Cherry is more in demand, so many sawmills prepare it for interior use. Depending on the timing of your project, in relationship to Brazil's rainy season, sourcing Jatoba decking may be a bit challenging. But if you plan ahead, we can probably source kiln-dried Brazilian Cherry as well as Jatoba decking for the perfect indoor/outdoor combination design.